You can quickly download a product manual from this site. Just enter characters in the text field below to display products beginning with those characters or leave it blank to show all manuals. Adobe Acrobat is required to view and download manuals; if you do not have this program, click here to download the Adobe Reader.
Select a letter below to display product manuals beginning with that letter.
2 manual(s) found for "Z" .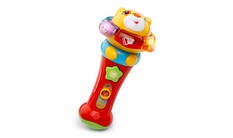 Zoo Jamz Microphone™
Sing and learn with the Zoo Jamz Microphone™ by VTech®. Join the jungle jam and use the voice-amplifying microphone to sing along to children's songs with the friendly lion and his friends. Speed up or slow down the tempo and add fun sound effects by turning the ring. Press the six light-up instrument buttons and your little one will learn about each instrument and hear the sound it makes. They can also use the light-up buttons to play ten different melodies note by note. Bring the animal band together by pressing the star-shaped button and hear the lion sing with the zebra from Zoo Jamz Piano™ and the giraffe from Zoo Jamz Guitar™ (each sold separately). Go on an exciting singing safari!
80-184000 Zoo Jamz Microphone Manual