You can quickly download a product manual from this site. Just enter characters in the text field below to display products beginning with those characters or leave it blank to show all manuals. Adobe Acrobat is required to view and download manuals; if you do not have this program, click here to download the Adobe Reader.
Select a letter below to display product manuals beginning with that letter.
3 manual(s) found for "O" .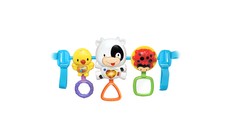 On-the-Moove Activity Bar™
The VTech® On-the-Moove Activity Bar™ is a cute farm-themed toy bar for babies on the go! Press the button on the cow, and be rewarded with cheerful phrases and playful songs and melodies. Swing the cow back and forth to activate the motion sensor and hear interesting sounds. The bird holds a textured ring that's easy to grab, and the ladybug has a baby-safe mirror for peek-a-boo fun! This interactive bar easily attaches to most infant carriers using easy to attach adjustable elastic straps.
185600 On The Moove Activity Bar Manual