Adding and Deleting Websites from the InnoTab® 3S Web Browser
Introduction
The InnoTab
®
3S Web Browser gives your child a safe environment to explore the internet by limiting the sites he or she is allowed to visit. Only sites that have been pre-approved can be visited. Access to all other sites is prohibited.
For your convenience, VTech has selected several websites with kid-safe content. However, you can customize the sites your child is allowed to visit by adding sites of your own or removing sites from the VTech Selected list.
To customize your child's site list, touch the Parental Control Mode icon

on the Home page to enter Parental Controls.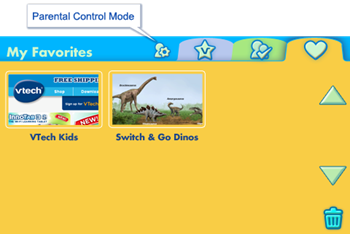 ---
Next, enter the email address and password that you used to sign up for Learning Lodge
™
to log in.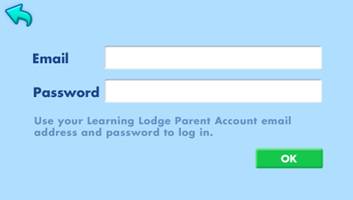 ---
If the login is successful, you will be brought to the Parental Control interface.
---
Managing the VTech Selected Sites
On the VTech Selected page, you'll see all the sites pre-approved by VTech. To add or remove a site to or from your child's approved list, check or uncheck the box next to it.

---
Managing the Parent Approved Sites/Adding an Approved Site
On the Parent Approved page, you can add and delete your own approved sites.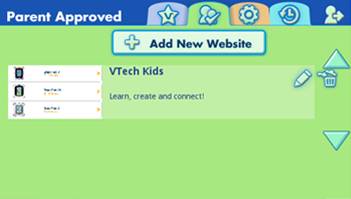 ---
To add a new site, touch the plus icon at the top of the page.

---
Next, enter the website's address in the URL field and give the site a name to identify it in your child's list. You can also add a description if you want. Touch the Save button when you're done, and the site will be added to your child's approved list.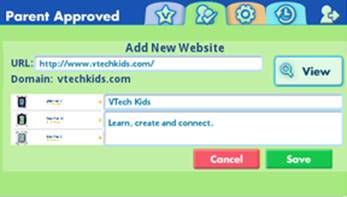 ---
If you want to preview a site before adding it, touch the View button to visit the site. This will open up the site in the Preview window. You can also navigate to other sites from this window by typing in the website address in the search bar on top.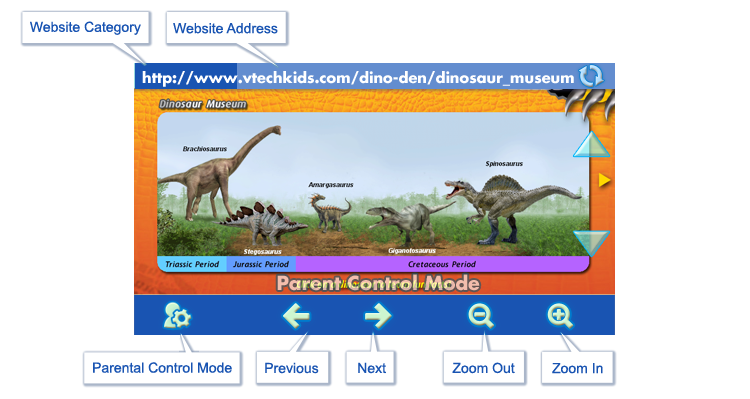 ---
On the Parent Approved page you can also edit or delete sites that have already been approved. To edit the information of a site you already added, touch the Edit icon.

---
To delete a site, touch the trash can icon next to it.

---
Note:
The Web Browser does not support Flash-based games and content or streaming audio and video. VTech
®
is not responsible for any inappropriate content that might be found on the Web. Parents should use caution when allowing their children to go online and should continue to monitor the online activities of their children closely.