Marble Rush® Spiral Starter Set™ Random Challenge
This Marble Rush® challenge explores the concept of random–something that happens unpredictably and without a pattern. The splitter track piece provides a fun exploration of this concept.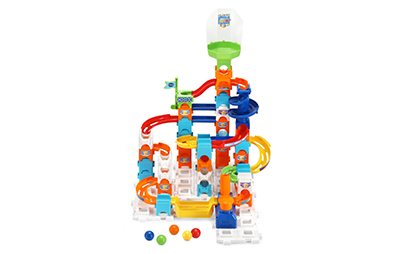 Learn About Random
Random is a word to describe when things happen without a pattern, when something cannot be predicted. The orange teeter totter randomly sorts the marble to one side or the other. To create less randomness, use a finger to block one path of the splitter so the marble can only roll to one side.
What's Needed:
Marble Rush® Spiral Starter Set™
5 marbles
A pencil
Blank paper
Random Challenge!

Complete the construction set as illustrated.

Use the launcher cannon to try to shoot 5 marbles into the starting funnel.

Do all of the marbles return to the same side of the launcher?
Using Random
Exploration 1: How Random?!
Is the splitter truly random? If true, then marbles should have an equal chance of exiting the left side or the right side. Drop five marbles into the funnel, one at a time, and note on a piece of paper how many marbles come out of either side. Now drop another round of five marbles and record what happens.
Are any patterns observed?
Do the marbles come out of either side with equal frequency?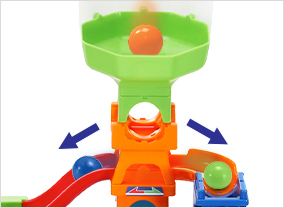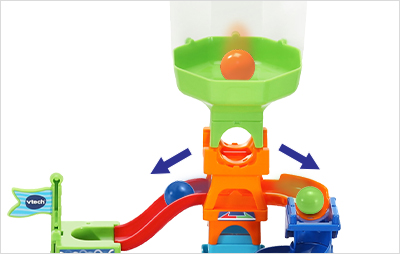 Exploration 2: To the Left, To the Right
The splitter at the beginning of the track sorts each marble randomly to the left or to the right. This adds an unpredictable and surprising element to the marble's path. However, sometimes it takes only a minor adjustment to make something random more predictable. Take a piece of paper and make four to five folds to give it some thickness. Then, lift the white base of the track and place the paper on either the left or right side of the track. This creates an uneven base, forcing all the blocks, including the splitter, to tilt and favor one direction. Test with five marbles and see the splitter still yields random results.
Did the tilt in the track change the results of the splitter?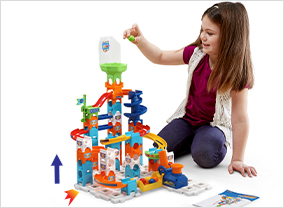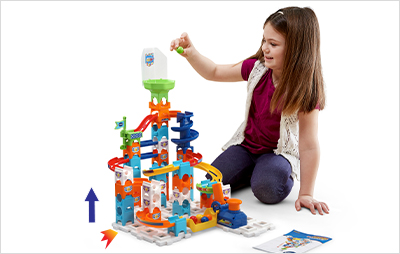 Marble Rush® Spiral Starter Set™ Build Options
The easy-to-follow build guide has different build options for multiple levels from beginner to intermediate.