Now you can own the next generation of our popular Wi-Fi learning tablet, the Innotab 3S. This tablet offers a wealth of fun, age-appropriate learning games for kids, plus new ways to play and learn. Kids and parents can exchange and share their text messages, photos and more over a kid-safe Wi-Fi connection using VTech Kid

Connect1. Browse kid-safe and parent approved websites to find even more learning fun right from the InnoTab 3S. For even more value, some InnoTab 3S come bundled with a rechargeable battery pack and AC adapter which eliminates the need to buy expensive replacement batteries. With the InnoTab 3S, the learning fun never has to stop!


















Exchange and Share with Smart phones1
InnoTab 3S connects kids to their parents and friends anywhere (available with Wi-Fi connection). With VTech Kid Connect Basic (included) you can wirelessly exchange text and fun stickers between the InnoTab 3S and smart phones. Kids can also connect with friends and siblings safely with tablet-to-tablet communication between two InnoTab 3S tablets no matter where they are- anytime, anywhere.


Kid Connect Premium- Exchange even more!
The Kid Connect Premium app offers enhanced VTech Kid Connect features by allowing kids and parents to exchange even more between the InnoTab 3S and smart phones2. With Kid Connect Premium, kids and parents can exchange voice messages, photos, drawings, texts and fun stickers.

Movie Maker
With Movie Maker, kids can become their own director, using their photos to create amazing movies.

Available on Learning Lodge
The Deluxe Apps Package (Kid Connect Premium and Movie Maker) is available for download at the Learning Lodge. Sold separately.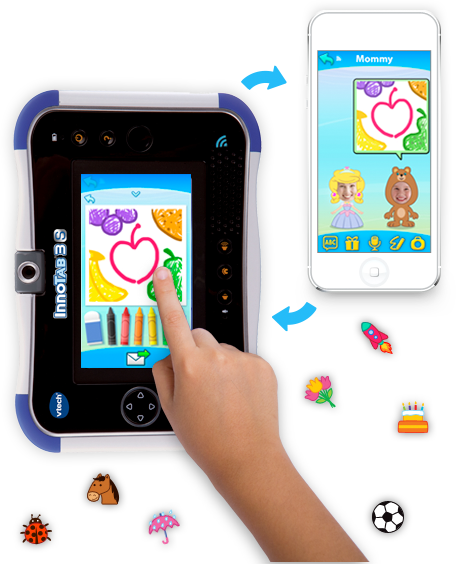 Browse the Web
Find even more learning fun online with our kid-safe browser. Using the InnoTab 3S, kids can securely explore age-appropriate websites approved by VTech's educational experts like Wacky Web Tales and Sports Illustrated Kids. Plus, the password protected parental control feature lets parents approve additional websites, set a daily usage limit, control which hour time slots kids can be online and view a history of all the websites they visited.

Make a Wish
Wish List Maker lets kids explore hundreds of games, e-books, videos, music and send their favorites right to mom or dad's email. Apps download wirelessly right to the InnoTab 3S4.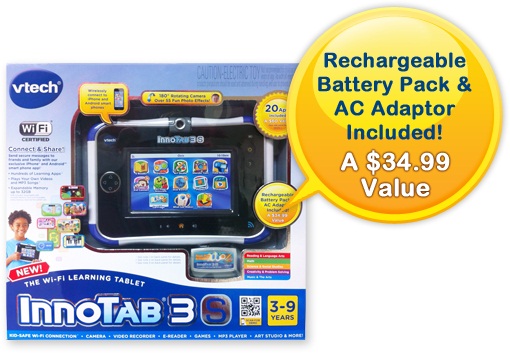 Now some InnoTab 3S include a rechargeable battery pack with AC adapter (a $34.99 value)! Enjoy up to 9 hours of battery life for non-stop fun. The charging takes place inside the system so there's no need to remove the batteries. It's never been more convenient to keep your child's InnoTab powered up!


1800 rotating camera and video recorder
Kids can take pictures and make amazing videos with the 2.0 MP camera with enhanced photo features!
Wonder Cam
Your child can take silly pictures of themselves or their friends! Create funny faces and photo frames, fantasy effects and kaleidoscope creations with over 55 fun effects.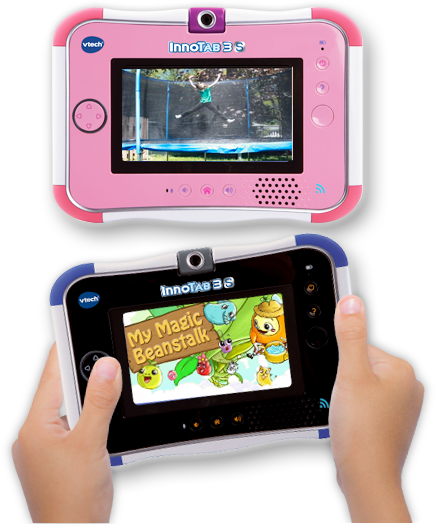 Have fun and learn with a large library of cartridge games featuring your child's favorite characters. Each is packed with exciting activities to entertain your child as they solve math problems, develop memory skills, learn science concepts and so much more. Interactive e-books teach reading and vocabulary, while creative activities and camera fun inspire your child's imagination. Available as cartridges or downloads from VTech's Learning Lodge (sold separately).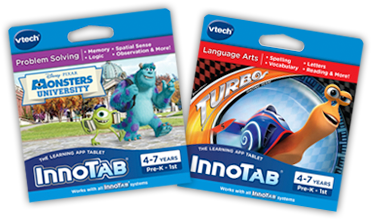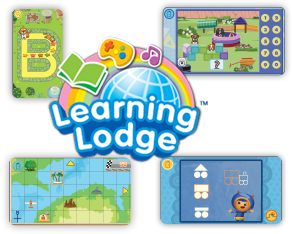 VTech's Learning Lodge features more than 6005 educational games, e-books, music and videos developed specifically for each child's unique stage of development, as well as their age and interests. The broad library of subjects includes reading, math, social studies, science, creativity, problem solving and so much more! Starting with activities suitable for toddlers and expanding to grade schoolers, the Learning Lodge gives every child an opportunity to expand their learning potential while keeping them entertained.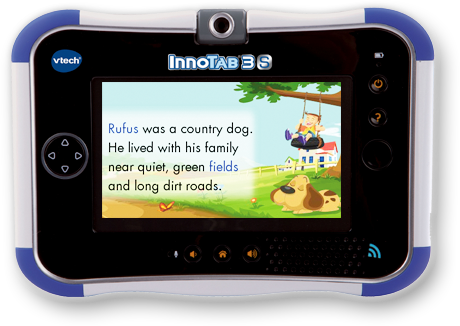 E-Reader6
Go on reading adventures as stories come to life with interactive e-books. Your child will watch the story as it's read or touch the words one by one to read at their own pace.
Story Dictionary6
Discover new words with the story dictionary. Touch the highlighted words to learn their meaning!

InnoTab 3S comes packed with fun and useful apps, like an MP3 player, calendar, clock with stopwatch, notes, friends list and much more!
Play Your Own MP3 Playlist
Your child can listen to their favorite songs, import their own music, play their own playlist, and download albums from VTech's Learning Lodge app store.
Calendar, Clock and Notes
Kids can keep track of their day with the calendar, clock and notes-just like Mom and Dad!
Personalized Home Screen
Take pictures with the InnoTab 3S and personalize the home screen with your own photos!
Friends List
Keep friends all in one place on the Friends List! Keep track of birthdays and contact information.
Read, Play & Create Cartridge
Read about a dog who moves to the city in the What's That Noise? e-book. Learn about science with the H2O GO! Game. Inspire your child's creativity with the Color and Pop activity.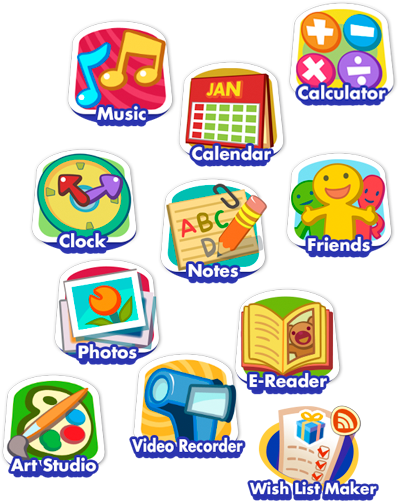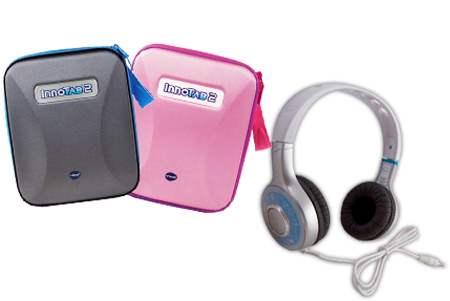 (Accessories sold separately)

Protect
Protect your InnoTab 3S with colorful folio cases and sleek gel skins, or keep your InnoTab 3S and games together with durable storage totes. Use the screen protector to keep your screen free from dust and scratches.
Play
Play games, watch videos and listen to music with VTech's customizable headphones. With the 4GB microSD card, you can expand your InnoTab 3S tablet's memory to store even more e-books, games, photos, videos and your child's artwork.
© VTech. All rights reserved. Learning Lodge™ is a trademark of VTech. InnoTab, VTECH® and the VTECH® logo are registered trademarks of VTech.MADE IN CHINA.
For the State of California, U.S.A. only. Lithium battery contains perchlorate material. PerchlorateMaterial - special handling may apply. See
www.dtsc.ca.gov
hazardouswaste/perchlorate.
The availability of the licensed cartridges and applications shown on the packaging and in the demovideos is subjected to the territorial restrictions of the different licensing contracts.
Disney elements © DisneyDisney/Pixar elements © Disney/Pixar© 2013 Viacom International Inc. All Rights Reserved.© 2013 Viacom International Inc. All Rights Reserved. Nickelodeon, Bubble Guppies and all related titles,logos and characters are trademarks of Viacom International Inc.DreamWorks Turbo © 2013 DreamWorks Animation L.L.C.© 2012 Viacom International Inc. All Rights Reserved. Nickelodeon, Dora the Explorer and all related titles,logos and characters are trademarks of Viacom International Inc.Thomas the Tank Engine & Friends™Based on The Railway Series by The Reverend W Awdry. © 2012 Gullane (Thomas) Limited. Thomas theTank Engine & Friends and Thomas & Friends are trademarks of Gullane (Thomas) Limited.© HIT Entertainment Limited. HIT and the HIT logo are trademarks of HIT Entertainment Limited.The Wi-Fi CERTIFIED Logo is a certification mark of the Wi-Fi Alliance.Apple, the Apple logo, iPhone are trademarks of Apple Inc., registered in the U.S. and other countries.App Store is a service mark of Apple Inc.Android is a trademark of Google Inc.Google Play is a trademark of Google Inc.
Microsoft® and Windows® and Windows Vista®are either registered trademarks ortrademarks of Microsoft Corporation in theUnited States and/or other countries. Adobe®,the Adobe logo, Flash® are either registeredtrademarks or trademarks of Adobe SystemsIncorporated in the United States and/orother countries. Intel®, Pentium® aretrademarks of Intel Corporation in the UnitedStates and other countries. Macintosh, Mac,Mac OS, and Safari are trademarks of AppleInc., registered in the United States and othercountries. All other trademarks are theproperty of their respective owners.THIS PRODUCT IS NOT ENDORSED ORSPONSORED BY ADOBE SYSTEMSINCORPORATED, PUBLISHER OF FLASH.
This product conforms to Safety Requirements of ASTM F963 and the Safety Requirements of Canadian HazardousProducts (Toys) Regulations.
- Supports MJPEG formatted videos taken on this tablet. Also supports H.264 baselineprofile video format with conversion software not included (see manual for further details)
- iPhone and Android™ smart phone app not included.
- Text of U.S. warranty available at www.vtechkids.com/warranty_policy. Warranty available in U.S. only.Text of Canadian warranty available at www.vtechcanada.com/myvtech. Warranty available in Canada only.
- Register online to activate Web Browser, VTech Kid Connect Basic Version, Art Studio, Wish List Maker and New From VTech.
- Download free iPhone and Android smart phone app at the Apple App Store and Google Play.

1
- Using the included VTech Kid Connect Basic on this InnoTab® 3S, kids can SEND & RECEIVE texts and stickers, to and from iPhone and Android smart phones (enabled with the free app/subscription for one year) and other InnoTab® 3S tablets. VTech Kid Connect Premium (available for download at the Learning Lodge) sold separately, will enable the InnoTab® 3S to also SEND & RECEIVE voice messages, drawings and photos to iPhone, Android smart phones and other InnoTab® 3S tablets.
- VTech Kid Connect is a subscription service. VTech Kid Connect Basic service included with this purchase is free for one year from the date of registration of this InnoTab® 3S.
2
- iPhone and Android smart phone app with one year free VTech Kid Connect Basic subscription available at the Apple App Store and Google Play respectively. VTech Kid Connect is compatible with iPhone 4 or above iOS 5.x or above; Android 2.3.3 or above with 320x480 minimum resolution.
- Mobile data service required but not included by Vtech.
3
- Supports WiFi (802.11b/g only) Children can use VTech Kid Connect to send messages only to contacts approved by their parents Children can only visit VTech-selected websites or websites approved by their parents
4
- Internet connect required but not included by VTech. Content sold separately.
5
- Some titles are not available until end of 2013.
6
- Content sold separately. Additional content may require microSD Memory Card (not included)