Learning is always more fun with VTech!
VTech provides award-winning educational toys for every girl and boy from infants to toddlers & preschool to grade school age kids. Check out these top-selling learning toys from VTech that include kid's tablets, interactive toy robots, transforming toy dinos, toy cameras, and more. VTech strives to create quality infant and preschool learning toys you can trust !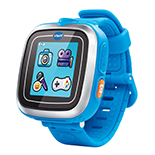 Kidizoom Smartwatch - Sky Blue
More than just a watch, VTech's Kidizoom® Smartwatch lets your budding photographer take photos, videos, play learning games and tell time for learning fun on the go!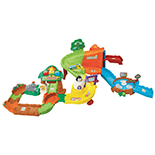 Go! Go! Smart Animals - Zoo Explorers Playset
Go on a trip with the Go! Go! Smart Animals™ Zoo Explorers Playset by VTech®. Explore and learn about animals, colors and more with the SmartPoint™ rhino and electronic zoo entrance. You can also connect to other playsets including Go! Go! Smart Wheels® for even more fun!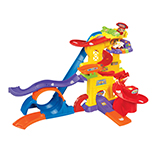 Go! Go! Smart Wheels - Ultimate Amazement Park Playset
Ready, set, learn! Pull the racing flag to launch the race car and zoom around exciting courses with the Go! Go! Smart Wheels® Ultimate Amazement Park Playset™ by VTech®! Develop language and motor skills while navigating obstacles and racing through three incredible features including a 360 degree loop, spiral and ramp. Place the race car in the electronic pit stop and pretend to fill the gas tank and make quick repairs while hearing fun phrases, music and learning colors.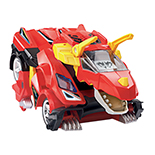 Switch & Go Dinos Turbo - Bronco the RC Triceratops
Bronco the RC Triceratops from VTech's Switch & Go Dinos® Turbo transforms from a fierce dinosaur to a sleek race car with the push of a button on his remote control! Use the remote control to drive Bronco around. You can even use the turbo charge lever to charge his turbo boosters. Then, press the turbo boost button to give him a burst of speed!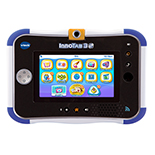 InnoTab 3S Plus - The Learning Tablet
Learn, create and connect with the InnoTab® 3S Plus! Open up a world of interactive game play and learning fun. A variety of subjects including reading, math, social studies, science and more are right at your child's fingertips, plus the can play their own videos and MP3s. With a Wi-Fi connection, your child can explore selected websites and even exchange messages with iPhone® and Android smart phones. From VTech®, the one-stop learning authority.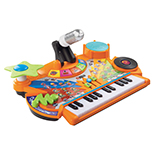 Record & Learn KidiStudio
The Record & Learn KidiStudio™ by VTech® lets you sing, record and play back your own musical masterpieces. Play along with 20 melodies in four popular music styles using the voice changer, sound effects and instruments. Now your child can perform and record like a rock star!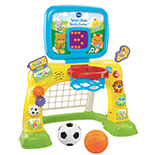 Smart Shots Sports Center
Shoot, score and learn with the Smart Shots Sports Center™ by VTech®. Toss the basketball into the hoop to score points, or kick the soccer ball into the net to hear fun sounds. Press buttons, turn gears and flip pages to learn about shapes, numbers and more!