Rated

5

out of

5
 by
Momof2NJ
11 month old loves it!
My son will be 11 months old in a few days and I got this for Christmas. I have NEVER seen him get this excited about a toy. He looked somewhat interested when I turned it on and it started talking, but when I put it down and it "ran" away from him he just lit up. He's been running after it laughing hysterically and looks so proud of himself every time he catches it! It works great on the carpet, which I was concerned about, and the fact that it actually maneuvers around obstacles on the floor is great. Overall we love this!
January 6, 2017
Rated

1

out of

5
 by
MamaOfDaBears
Scary
My 1 year old is petrified of this toy. He screamed the minute it started moving. And we have pets. He also has many Vtech toys but this is the only one we've had issues with. He even ha's the bear that crawls.
April 2, 2016
Rated

4

out of

5
 by
Dima83
Fun but gets annoying
You must replace the cheap batteries. I thought that toy broke after just two days, because it would get stuck and make a beeping noise. Once I replaced the batteries to a better quality the toy worked better than the first day.
January 26, 2016
Rated

4

out of

5
 by
Ady8
My Son loves this cat! The only problem is that it doesn't go on rugs very well. Please design them with fur!!
Moves around well except on the rug. It needs to be softer so my Son can hug it. A volume button on it as well.
January 25, 2016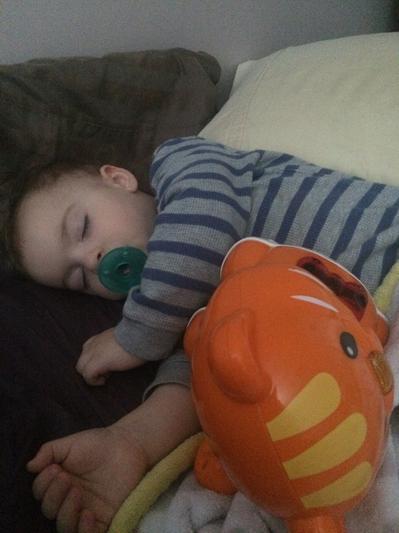 Rated

1

out of

5
 by
Shea
Had it less then a week...Not Worth Buying
We bought our daughter this toy for her first birthday and was nice when it worked. Not even a few day later it's already messing up. It will cut out in the middle of her talking, we will get this loud beeping noise for no reason. "Do not drop the unit on hard surfaces and do not expose the unit to moisture or water." - Manual. How is a toddler not going to drop the toy? She dropped the kitty a few times now, and all we have is hardwood floors.Which it recommends it to be on! And all is really is saying is to change the battery or keep messing with it until (hopefully) it works. It more of a hassle to deal with then most toys and not worth buying.
August 26, 2015
Rated

4

out of

5
 by
eboousm
A kitty he can actually catch!
We have four cats, and my son (20 months) tries desperately to play with them, but they are just not that into it! We bought this toy when he was learning to crawl, but once it stopped moving, he lost interest. Now that he is running everywhere, he loves it. He thinks it's funny when kitty bumps into things. He can catch the kitty and press her buttons. He even likes he can switch her modes easily with the switch. He loves this little kitty.
July 15, 2014
Rated

1

out of

5
 by
Krishibb
Great toy when working. Breaks EASILY.
We have had 2 of these in the last week. Both have broken within 3 days of being used. My son is one, and can be rough with it, but he's one....that what they do. It can't standup to any dropping etc. Do not buy this product,,,,unless you only want it for a few days. So disappointed vtrch!
June 20, 2014
Rated

3

out of

5
 by
MommaTiff
Fun to play with but has some problems
My daughter got this item for Christmas (she was 7 months, 8 months now and trying to learn to crawl.) It is great to encourage her to crawl but the sesnors in it seem glitchy. They don't sense obstacles very well 90% of the time it runs into everything. It doesn't seem to sense my daughter very well, it goes VERY far away from her. However, sometimes it will stop and go in circles in front of her trying to get her to come after it. It will run over her hands as well. I have not heard any nursery rhymes or anything to do with the shapes but the numbers are said when buttons are pushed. I would recommend it for someones child to play with, I am hoping that as she gets older she will become a little more interested, she gets bored with it easily. The age recommended for it is appropriate.
January 13, 2014