Rated

5

out of

5
 by
Lubo
Santa brought it and our 5 year old loves it
Only bad thing is he decided to throw in a trash the stickers which comes on a sheet to tune up the toy, because they were no longer sticky. Today he decided he wants them back because I could "fix them" so I went thru the new year trashcan already put on the street while he is sobbing in a bed. Found some, not all of them, tried E-bay, no luck, will continue tomorrow morning. Make them fluorescent next time please ;-)
January 3, 2017
Rated

2

out of

5
 by
Dinomom
Wheels stopped turning
After about 20 hours of use, it lost the ability to turn. The wheels just stopped responding. It seems like a very solid product, and it was super fun while it lasted. If anybody could help us get it working, we'd be thrilled.
December 12, 2016
Rated

5

out of

5
 by
RyanReviewToys
This product and transform between dino and racing car with a touch of a button!
My three year old son saw this toy and immediately he wanted to buy it! He loved it so much! The toy is easy to understand how to use and it worked great on carpet! He figured out what most of the buttons on the remote does all on his own! He played with it over and over again for days!!! Watch him unbox the toy and see him play and interact with it here! https://www.youtube.com/watch?v=5swXeH1Gl3o
March 21, 2015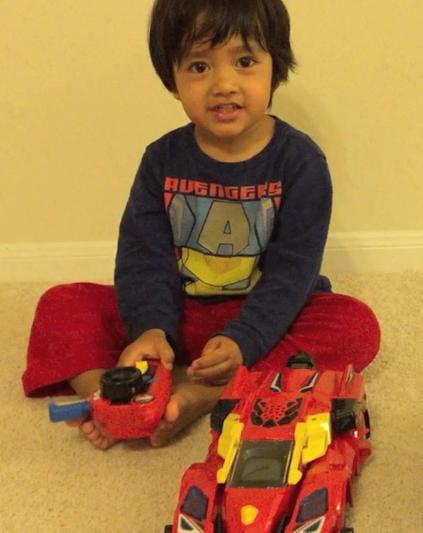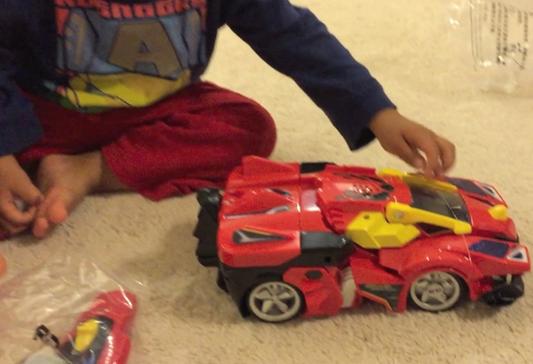 Rated

5

out of

5
 by
Samuel6
My son loves that it changes between a car and dinosaur
This toy is a lot of fun. My son really likes the remote control feature. He likes the car.
January 10, 2015
Rated

5

out of

5
 by
DinoMomm2
The Coolest Toy!!!
I am So impressed with this switch and go dino, Bronco! My 2 1/2 year old is amazed by it and the controls are easy enough for him to handle which is awesome! He is very sturdy and has so many cool features!! In comparison to other remote control toys, the battery usage is top notch and it automatically goes in sleep mode if he stops playing to conserve battery use. My son Loves playing with this and I imagine he will continue to love it for a long time since he'll get better at steering and play more interactively as he ages. This is a Great buy for a Great price I Highly recommend this product!!
January 7, 2015
Rated

5

out of

5
 by
Michelle2629
My 5 yr old loves this toy!!!
Great product and can take a beating! My son repeatedly drove This toy down 2 flights of stairs and it still works like new! He loves how it transforms with the remote control and the adults seem to enjoy it as well.
January 3, 2015
Rated

5

out of

5
 by
TheKidsDidIt
Perfect for boys AND girls
I have a boy and girl who are 5 and 3. I like to find toys that both will enjoy and play with but sometimes it's tricky. Bronco is a great toy that engages both genders and ages. They loved playing bridge (where the dino goes under their legs) and amusing their 5 month old brother with the lights. It also worked great on our carpet too.
December 17, 2014
Rated

5

out of

5
 by
TracyS
Fun Car and Dino Lovers!
My son was really excited when we received the VTech® Switch & Go Dinos® Turbo Bronco the RC Triceratops for review, he actually had a few friends over and they were determined to get it started by themselves. The great news is that it's VERY easy to set up, you basically just need to get the batteries, install them, and get ready to start driving! We love the eyes and all the fun features! Disclosure: We received this for review
December 17, 2014