Rated

1

out of

5
 by
Amandacrouse
Keeps repeating songs
I love this toy and my daughter loves it too! However it constantly repeats the songs on each mode. "Heyyyy it's time to play. Heyyy it's time to play. Heyyy it's time to play." Meaning we have to turn it off and it isn't very valuable when its turned off. When it doesn't have a the repeat problem after the first line of the song... the songs still repeats over and over and over.
July 23, 2014
Rated

3

out of

5
 by
FluffyPuff
Stopped working within two months
Got this from the grandparents for my daughter. She didn't play with it at first very much because she was still a little young for it. Two months later she took interest and figured out how to put the letter blocks in. But now, after hardly any use, the letter block section works poorly. Instead of telling what block she places in, it just replays the beginning song over and over. Then if she leaves it alone, it continually repeats the opening song on its own. It's disappointing to me because it has had such little and light use, yet it's not functioning correctly. And now that my daughter is trying to learn the letters, it's malfunctioning.
April 15, 2014
Rated

4

out of

5
 by
jglejeune
Lasts for years
My parents gave this to my son for Christmas when he was 1. He'll soon be 3 & still plays with it though we will soon be passing it down to a friend with a 6 month old. I love that the toy can grow with the child & has different sides that appeal to different age groups. I have not noticed any of the problems with letter recognition or grammar that others complained about. I believe those issues are likely due to misinterpretation of the automated voice & possibly not placing the blocks into the slot fully. My only complaint is that some of the stickers started to peel and, as someone else said, the bar on top pulls off too easily. Oh, it can definitely be a noisy toy but there is an off button & I leave it off unless my son is actively playing with that side. I would definitely recommend this toy to other parents, especially any with multiple children under 3!
April 2, 2014
Rated

2

out of

5
 by
DeeAnn1985
Not to smart
When placing a letter block in the yellow rectangle, often the cube identifies it as a totally different letter. It will also ramdomly say "you found the letter w!" For no reason, with the yellow rectangle being empty. The cube seems to have its own type if attention deficit disorder. While my daughter is playing with the telephone buttons, it will begin saying a number then move on to something else. Example: she pushes 5 the cube says 5. She pushes six, the cube cuts off the telephone play to begin singing. It plays its song most often and over playtime. So the alphebet side of the cube is unnecessary since it cant recognize most of the alphebet blocks, cuts off playtime with numbers, shapes and animal sounds for random talking and singing. Definitely not helpful with learning and absolutely not worth the price! I want atleast half of my money back because that is all this toy is worth. Not what I expected from a brand that is so expensive and well known. I am completely disappointed
February 1, 2014
Rated

4

out of

5
 by
perdueosity
Our 8 month old loves it!
My parents bought this for our 8 month old for Christmas, and he plays with it daily! He loves to pull up on it, knock the blocks off the top, play with the activity bar, press all the buttons, music keys and number keys, pull the letter blocks out of the rectangle and grab the phone, and he's regularly pulling more toys out of the storage/ hole side. It's great that you can store the blocks inside, and we even store other toys in it. We haven't had issues with it randomly playing, knock on wood! I did notice that some of the letters sound the same, and questioned if they might have the wrong letter, but I think it may be the voice and pronunciation I'm hearing. Either way, we're there to be able to reinforce that he's learning his letters correctly. But at 8 months he's not retaining those things anyway! He is however thoroughly entertained by it, and that makes us all happy! Oh and we even bring it with him when he stays with grandparents! It travels well for a bigger toy.
January 29, 2014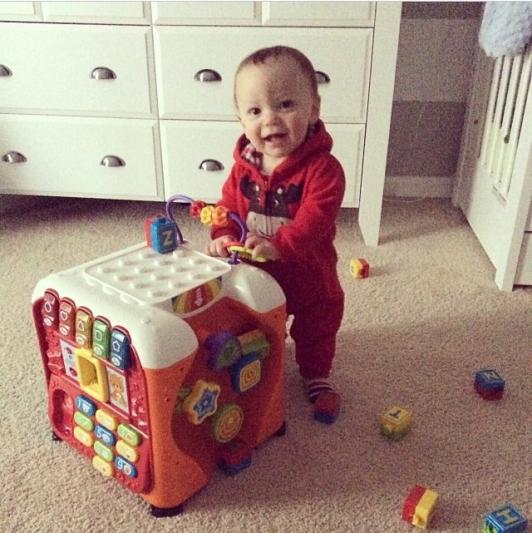 Rated

5

out of

5
 by
glad
great,christmas gift,my great grand daughter plays with it every day
love all the features.she is almost a year old.and it will last forever,lots of educational gismos to learn.
January 7, 2014
Rated

2

out of

5
 by
Jess
Bad Grammar!
This toy teaches children poor grammar! This is supposed to be an educational toy yet when you place the a letter A, for example, in the rectangle, it says "It be the letter A."
January 2, 2014
Rated

3

out of

5
 by
Mark
electrical problems
we recieved this toy as a gift for my daughter. she plays with it sometimes - is not overly drawn to it over her other toys. it seems to serve its purpose in entertaining her and being semi-educational, etc. However, my biggest problem with the cube is that it will randomly starts playing music when nobody is around or near it. The other night in the middle of the night my wife woke me up because it was looping on "..hey, its time to play....hey, its time to play...hey, its time to play..." Forgetting the fact that it is loud enough to wake people up, it is not what you want to wake up in the middle of the night to.
January 2, 2014
Rated

4

out of

5
 by
Jmommy
4 great sides, 1 not so much
My 8 month old son just got this for Christmas and really enjoys it. I am pleased with the product however am disappointed with the one side with the pegs. I've tried to drop the blocks in it many times and not once has the block made it to the bottom. It keeps getting stuck. Wish it would have come with balls or a different side.
December 29, 2013
Rated

1

out of

5
 by
Moosekibbles
Letter blocks are wrong
I was so excited to give this to my son for Christmas, but so sad when I started putting the blocks in to hear it say the letters that only 2 blocks out of the13 recognize each side correctly. I'm very disappointed in the quality of this product.
December 27, 2013
Rated

1

out of

5
 by
A2113
Wrong letters are read
When you insert the letter blocks, the activity cube identifies the wrong letters. For example, when you put in f, the activity cube reads it as g. Every letter is read as the next letter in the alphabet. If this was fixed, it would be a wonderful toy, but I'm not keeping something around that is going to teach my child incorrectly!
December 26, 2013
Rated

5

out of

5
 by
random66
great grandchildren love playing with this toy
this will be something that each child will be able to enjoy and benefit from
December 7, 2013
Rated

4

out of

5
 by
Molly
LISTEN To It, The Grammar Is Just Fine
If a previous reviewer actually took the time to listen to this toy instead of just hearing it, they would know that it does NOT say "It be the letter __." It says "It's me, the letter __." Our 14 month old daughter loves this cube. My main complaint is that it sounds off all day & night when no one is around & it hasn't been touched in hours. It's quite annoying to be fast asleep & startled awake because the demonic toy decided 3am was a good time to randomly play the same 7 songs consecutively & for no reason. It's creepy & incredibly irritating.
August 6, 2013
Rated

4

out of

5
 by
Kalina
This toy will be around for awhile!
I love this activity cube. I think it is a great toy that will last a long time and my daughter will play with it for months to come. That is what makes this toy worth it. Bright colors, removable parts and many activities make this toy a must have.
February 3, 2013
Rated

5

out of

5
 by
Mike
My Child's Favorite Toy
My daughter loves the blocks. They fit her little hands well. More and more everyday she interacts with the toy. The bright colors, lights and sounds draw her attention. She loves to use the the cube to lean on, and has even climbed up and sat on top of it a couple of times.
February 1, 2013
Rated

2

out of

5
 by
Ashley, mom to two
For a learning toy, it teaches bad gramm
When your kid is learning about letters and the cube says "It be the letter B" does this sound like good grammar? No. As soon as we heard that we wanted to return it but it was my 10 month old's Christmas gift so we were in a bind. IF I had know it taught grammar like that I would have never bought it.
January 27, 2013
Rated

5

out of

5
 by
Chicago Dad
One of my favorites!
This is one of my kids' favorite toys.
January 23, 2013
Rated

5

out of

5
 by
Chicago Mom
Great toy!
This toy is great and is really helping my child learn their letters!
January 23, 2013
Rated

5

out of

5
 by
Johnnie
This product is awesome!
My granddaughter loves it! She's only 9 months old, yet it keeps her attention longer than anything else...she is definitely learning already, playing the keys, putting the blocks in the storage area(and getting them out!)...was worth the money, by far! Started playing with is @ Christmas, and the batteries are still going strong!
January 21, 2013
Rated

5

out of

5
 by
Granny
Endless Fun!
Keeps my grandson well entertained. He loves playing with the alphabet side and talking on the fun. We have a large family and this is definitely one of his favorite Christmas toys.
January 20, 2013
Rated

3

out of

5
 by
BC
fun but could use some adjustments
the shapes should turn instead of being unmoveable, the top piece snake shape comes off too easily
January 20, 2013
Rated

5

out of

5
 by
BabyLily
Alphabet Activity Cube Review
My little children love this activity cube. It keeps their attention, for long periods of time. Which is great, when Im a mother of 5!!!!
January 20, 2013
Rated

4

out of

5
 by
mima
alphabet cube
learning tool for my grand
January 20, 2013
Rated

2

out of

5
 by
Logan's Mommy
Doesn't work right
The number block are reading wrong. Not very good for teaching children their ABC's
January 3, 2013
Rated

1

out of

5
 by
MomTeacher
Unhappy with letter recognition
I am unhappy with this product as the letter cubes are not recognized correctly. The first letter I put in was an H (beginning of our daughter's name) cube says "You found K!" I put in a V cube says "You found W!" This happens with almost all of the letters. If I had a gift receipt I would try to return it for something that will give my child the correct information instead of this cube. I have had to hide the letters from my daughter because I don't want her to hear the wrong letter name. Very disappointed in this cube.
January 1, 2013
Rated

1

out of

5
 by
Ash
incorrect letter recognition
We purchased the activity cube for our son for Christmas and were so excited about all the different play options. Unfortunately when putting the letter blocks in the reader area it frequently misreads the letters calling the "R" an "S" etc. very disappointing!
December 29, 2012
Rated

2

out of

5
 by
Jay G
Erratic
Everything about it was great except that about 20% of the time it misreads a given block's letter by plus or minus one letter, calling a J a K, for example. And since VTech's website rejects their own techline address, there's no way to even let them know. My granddaughter is VERY unhappy that we had to take the blocks away from her.
December 8, 2012
Rated

4

out of

5
 by
Crystaltingle0582
LOVES IT!!!
The ONLY reason I gave this a 4 and not 5 stars is because only 1 side is electronic. If 4.9 were an option, i wouod of choosen that. However, for the price of [$]. I wouldn't expect it to be on all sides. I would of paid over $100 if not more if at least 2 sides were electronic. If you are thinking of purchasing this toy, it's well worth the money. Best thing I have bought for my 8 month old yet. She's not crawling yet but sits up and the top of this cube is just above her head so everything is right there in front of her face. Thanks to vtech' I can now walk more than 5 feet away and she can entertain herself. I have nit been able to do that in MONTHS. I was literally about to go crazy. THANK YOU!
August 25, 2012
Rated

5

out of

5
 by
Jenny
Great toy!
We just got this toy for our daughter and she loves it. I'm always looking for toys that can be used for more than a few months and this toy is perfect. Being that she is right months old she currently enjoys the blocks and the pressing the buttons. As her hand/eye coordination improves Puting the letters in the slot and building things will be fun. I can see us using it further to learn our numbers and letters as well. This toy is worth the money!
August 24, 2012